Whip Up Exciting Meals and Win in this New Time Management Game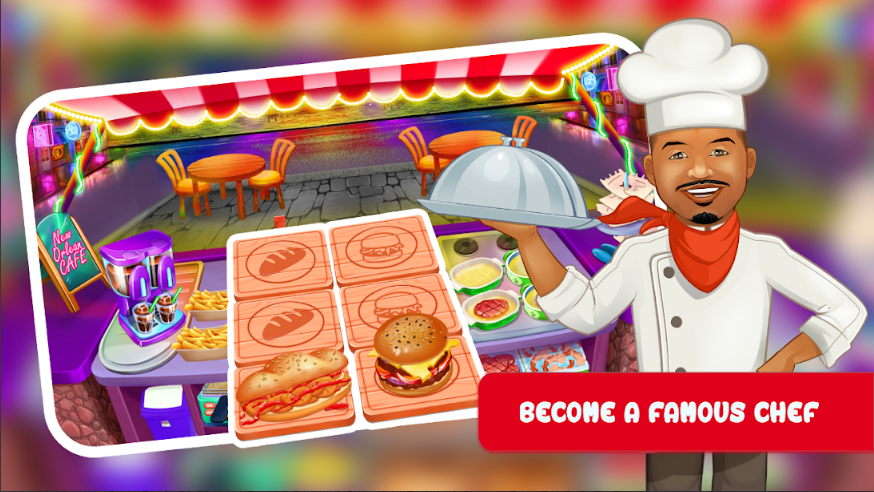 With so much of blood and gore in the world around us, finally, there's a new, refreshing game introduced by Tymedia Production that offers some clean and competitive fun. Kitchen Clout is an engaging game that can be enjoyed by all age-groups and takes players from one city to another to set up their restaurants, whip up delicious food, satisfy your customers and earn coins to progress to the next level.
Tymedia Production has recently launched its fun new cooking and time management app that is making waves around the world. Anybody who loves to cook or enjoys food knows about the precision and skill required to prepare a yummy dish. In a restaurant, this precision takes another level as one must whip up several dishes quickly to keep the clients satisfied. The Kitchen Clout app lets users participate in competitive cooking through virtual restaurants and multiple levels that require them to cook, serve, manage time, and earn coins to progress further.
"Kitchen Clout is an exciting time management cooking game app. Users must create delicious meals at their restaurant, adding toppings, flipping the pans and serving food to customers in minimal clicks. The primary aim is to earn as many Coins as possible through good service and purchasing upgrades to progress to new levels," explains Tymeka Lawrence, Owner, and Founder of Tymedia Production. She adds that the game has been designed with multiple tiers, rewards and global competitions that makes it very interesting and highly competitive, keeping users engaged for hours while putting their reflexes and thinking abilities to test.
Features:
• Free time management game with hundreds of levels and exotic ingredients to cook interesting meals
• Cook and serve exciting dishes across continents in an engaging time-management game
• Strategize to win time-limited rounds on a tasty quest that will take you around the globe
• You have five lives to continue the game. If you lose a level, you lose a life and you must wait some time to regenerate your lives after losing all five or purchase lives with K-Stars
• Earn tips with unique power-ups and Boosts to pass every level.
• Earn positive reactions, large tips, and be the best chef in the world, for free
Kitchen Clout jogs your mind on multiple fronts by asking you to serve a customer before their meter runs out. Serving a customer a part of their order will partially refill their meter, but you can use King Cake and Confetti boosts to refill or freeze their meters. Food must be cooked until the green meter is full. Once the food has finished cooking, you must remove it from the fryer before it burns, or you'll have to throw it away. That's a lot to do in a limited amount of time and that's what makes it rewarding to complete each level in this amazing time-management game. If you love cooking or dream to be a recognized chef, Kitchen Clout can be a good starting point to practice your skills.
Device Requirements for iPhone:
• Size: 680.3 MB
• System: Requires iOS 9.0 or later.
• Compatible with iPhone, iPad, and iPod touch.
Device Requirements for Android:
• Size: 94 MB
• System: 5.0 and up
Pricing and availability:
Kitchen Clout 1.2 is available for Free with In-App purchases on the App Store in the games category and also available for Free with In-App purchases at Google Play Store in the Strategy category.
Media Contact
Company Name: Tymedia Production
Contact Person: Tymeka Lawrence
Email: Send Email
Phone: 1-800-686-9736
City: Slidell
State: Louisiana
Country: United States
Website: www.tymedia.us