Talented Rapper, I Am The Wolf To Drop A New EP Titled "If You Dare"
Talented rap artist from Oakland, CA, I Am The Wolf, is set to release a 6-tracker EP titled "If You Dare"
July 6, 2020 – I Am The Wolf looks ready to change the rap game as he is set to treat millions of lovers of rap music across the globe to some of the best songs to have come out of their speakers in a long time with his upcoming EP. Titled "If You Dare," the project contains six solid songs as I Am The Wolf uses his creativity and ingenuity to deliver thought-provoking content on dope beats.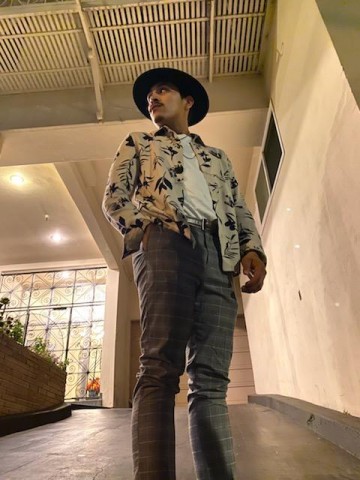 Many rap songs available today seemingly lacking "content" that endeared rap music to the world. Consequently, it has become imperative for stakeholders in the industry to bring back the lost glory of the rap culture. This is where I Am The Wolf is looking to make a difference as he continues his quest of taking the rap game and of course, the hip hop community, to a whole new level.
Wolf has been described as a "legend-to-be," offering a triple threat of "out this world" songwriting, rapping, and singing abilities. I Am the Wolf is particularly unique as he brings back the storytelling aspect of what made hip-hop so popular. Through songs like Goodbye, Feelin Free and Kick up, listeners can feel the deep passion and struggles of just an ordinary person striving to make his dreams come true while dealing with life's stresses. Riesgo offers listeners an amazing mix of two languages as Wolf flips from Spanish to English. Other songs on the project are Vybin and Over the Moon for dancers and the hopeless romantics.
"If You Dare" will be available across all digital platforms for music lovers worldwide. He will also be performing covers of Indie alternative artists and originals.
For more information about the EP and other works from I Am The Wolf, please visit his page on Instagram. His works can also be found on the social media handles of his record label, The Organization Music Group on Instagram and Twitter.
About I Am The Wolf
I Am The Wolf is a versatile and passionate Bay area artist that started music at the tender age of 12. Inspired by the likes of Eminem, J.Cole, and Russ, Wolf aims to use his talent as a tool to trigger conversations that will lead to positive changes in the community. He has performed on different stages, including thrilling over 6,000 people at the Light Fest Festival in Willows California, where he shared the stage with another Bay Area artist, Ky the Wave.
Media Contact
Company Name: The Organization Music Group
Contact Person: Marshon Williams
Email: Send Email
Phone: (818) 922-9196
Address:17544 Blythe Street
City: Northridge
State: CA 91325
Country: United States
Website: http://www.instagram.com/theirganizationmusicgroup