Putterball Launches Custom Logo Service For Businesses Across The U.S.
Innovative golfing solutions provider, PutterBall, announces the launch of their custom logo service for golf enthusiasts across the United States
PutterBall has again reiterated their goal of creating the best golfing experience that combines a love of golf, competition, and beer to provide the perfect backyard party game with the launch of their custom logo service. The innovation allows individuals, companies, and other clients to personalize their turf board by having their logo carefully crafted on it. This will also help in creating a seemingly more engaging golfing experience while allowing businesses to promote their brand effortlessly.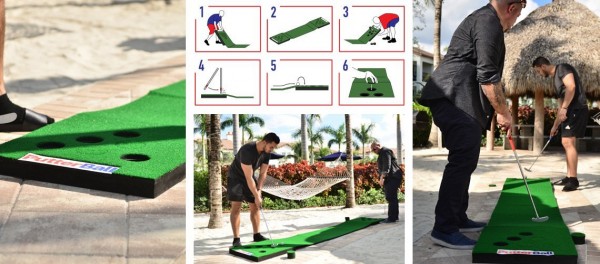 The PutterBall backyard golf game has become increasingly popular in recent times; allowing golf lovers enjoy an invigorating time playing golf at the comfort of their backyards. The game particularly gives people an amazing golfing experience, especially for those who have never played the game or even claim to find it uninteresting. Putterball is reminiscent of a standard game of beer pong, with a similar objective of making all six cups before the opposing team.
Over the years, several similar golfing solutions have emerged to help people enjoy the beauty of the game of golf. However, very little have met the features and experience of PutterBall. PutterBall has taken the golfing experience a notch higher by creating custom-made turf boards.
The board is made with high-density, durable foam, and ultra-light design for portability. Thanks to the board, anyone and everyone can enjoy their favorite game at the beach, the park, the backyard, or even the workplace, which is where custom turf boards are particularly great.
PutterBall's new custom logo service is already getting an amazing reception from clients, with the company having big names like Beer Company, Top Golf, and Truly Hard Seltzer on their list. PutterBall has continued to receive accolades from different quarters, with more than 1,600 positive reviews.
"I bought this for my husband for his birthday and it has been a fun game to play outside. I will definitely recommend this to other people who are looking for a fun outdoor activity to play with the entire family. My 89-year-old grandmother loves it as much as my 3-year-old niece," said Jayme M.
For more information about PutterBall and the recently launched board customization service, please visit putterballgame.com. PutterBall also has a relatively strong presence on social media via Facebook, Twitter, and Instagram.
Media Contact
Company Name: PutterBall.com
Contact Person: Media Relations
Email: Send Email
Country: United States
Website: https://putterballgame.com/