Learn how to incorporate faith into business for more effective results with the podcast "Faith First Leadership"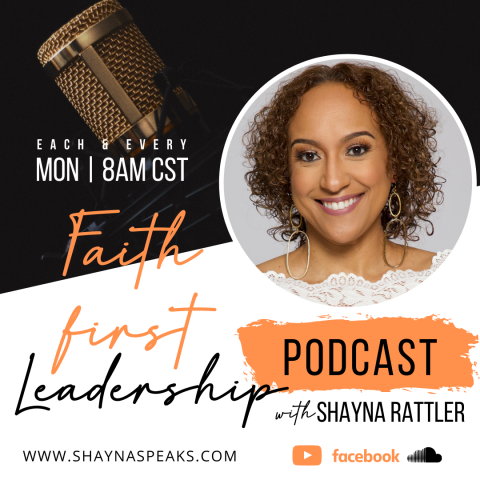 Faith is the most underrated element used in making any business plan successful. In fact, faith should be the key factor in triggering growth, as it leads to better understanding and decision making. This is what Shayna Rattler demonstrates through her podcast "Faith First Leadership". Shayna has received numerous awards for her business, published 3 books, and featured in over 250 renowned media outlets, like The Wall Street Journal, Enterprising Women, FOX, and Black Enterprise. Taking advice and listening to someone like that, regarding successful business strategies, is surely worth giving a shot.
Hosted by Shayna Rattler, "Faith First Leadership" podcast was launched on May 24, 2020. As of now, there are 9 extremely informative and inspiring episodes to this podcast, which have gained huge popularity among people from different fields of work. Each episode of the podcast features guests, including entrepreneurs, executives, and ministry leaders who share their stories of how faith helped them in making better decisions in their leadership and moving forward during times of uncertainty. With this podcast, you will understand the importance of taking a leap of faith during the uncertain times, or when you are stuck personally or professionally, and how it can help you regain your enthusiasm and enter a different dimension of success.
Each episode of the podcast highlights interesting topics that help curious leaders from around the world understand how faith influences leadership. In the episode titled "Let Go of What No Longer serves you", the host talks about the 4 A's that leaders need to let go of to accomplish greater goals. This episode empowers leaders to loosen their grip on anything that is expired and serves no purpose, as it will bring no good.
The latest episode of the "Faith First Leadership" podcast was aired on July 6, 2020, and features Nate Bailey. In this episode, the guest discusses the disadvantages of waiting to be "ready" to start anything new, as it keeps you stuck for no reason. With such insightful episodes, Shayna's goal is to help high performing leaders who are burned out from their business or career align with God's principles to drive the next chapter of their life.
Listen to the podcast "Faith First Leadership" now on this LINK.
Media Contact
Company Name: Shayna Speaks
Contact Person: Shayna Rattler
Email: Send Email
Phone: 888-937-4282
Country: United States
Website: www.ShaynaSpeaks.com