Artmane's new single "Eat" crosses 40K views on YouTube within a few days of its release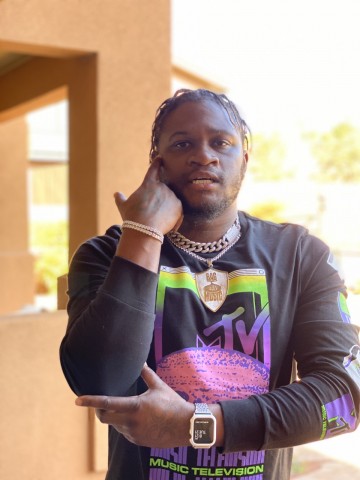 Signed by Bag Music Entertainment, Artmane is an emerging American rapper from Atlanta, Georgia. Inspired by the ample time due to the pandemic to continue his practice in music, Artmane decided to utilize his days to do something productive. Therefore, he came up with his latest single "Eat", which has left the world shocked, but not surprised. "Eat" has crossed over 40k views on YouTube, and is taking over the industry by full force.
The single "Eat" by Artmane was released on June 5, 2020, and has gained widespread recognition ever since. This song also features Leah Loot, who has added more charm to the single. "Eat" is a perfect amalgamation of upbeat music and free-flowing lyrics. It is accompanied by a music video where both, Artmane and Leah Loot can be seen performing on their hard-hitting number, giving the track an amazing visual touch.
Artmane has used the term "Eat" as a metaphor for making money and getting paid. With this track, he motivates all the listeners to start grinding and hustling to reach their desired goal. The eclectic beats of the song will make you want to bob your head and dance to the rhythm of it.
Artmane is a hardworking and dedicated artist that gives 100 percent in all the songs that he creates. Telling about his musical journey so far, Artmane says, "My journey has been full of distractions, obstacles, and hurdles that I have and will continue to jump. My path is set for magnificent destinations filled with hard work and teamwork."
The pandemic proved to be very beneficial to Artmane, as it helped him to fulfill his long-time goal of making music. While everyone else is having trouble dealing with the pandemic, Artmane looks at the brighter side of it, which has brought him much closer to his friends, fans, and family. Artmane feels motivated to do music, now, more than ever, and there are no barriers that he is not willing to hurdle over to create good music.
Artmane likes to describe his music style as hip-hop, fun, and energetic club music. He makes music that is inspiring and motivates people to keep moving in life. He gives his fans a humble message, where he says, "Every day can be Friday. Live the dream, don't dream to live. Push yourself and achieve all that you desire in life."
Watch the music video of "Eat" now on YouTube.com.
Media Contact
Company Name: BAG MUSIC ENTERTAINMENT, LLC
Contact Person: Arthur Bluitt
Email: Send Email
Country: United States
Website: linktr.ee/artmane