Exclusive interview with artist FMB Foreign, the only girl member of musical group FMB based in West Baltimore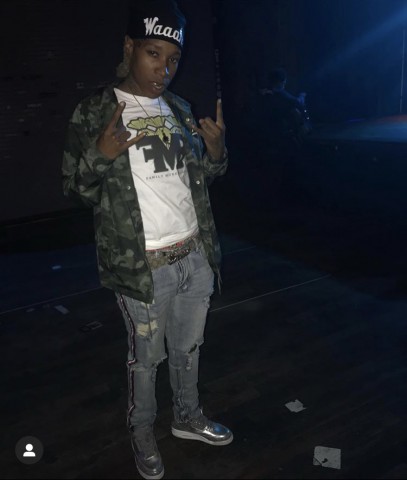 The only girl member of the FMB Group, Foreign is a young talented artist who has been in the music industry since 2013. Her love for basketball was known to everyone since the beginning, but her passion for rap music emerged only by the year 2013. She has been taking music seriously ever since and creating amazing music with the group FMB (Family, Money, Business), composed of four members in total.
Foreign has performed and won at many local shows and open mics in cities like New York, DC, and Philly. She has studied radio and interactive media in high school and draws inspiration from great artists like Drake, Lil Wayne & G Herbo. She has successfully released two mixtapes titled "Plugged Inn" and "Plugged Inn 2", on all music platforms, which have gained widespread recognition from across the world. Foreign's music is raw and refreshing, with a unique sound that makes her stand out from the rest.
Interviewer: Who inspired you to make music?
FMB Foreign: Other than my friends My Father actually had a rap group when I was a younger child that played a major role in my inspiration.
Interviewer: Tell us about your musical journey so far
FMB Foreign: My journey started with a member who isn't here today Rest his soul So that's exactly what it has been a journey but I'm still on the road it's been bumpy but I'm still riding and we are progressing I can't complain head work pays off we have traveled to local states and did shoes and also we do shoes in the city all the time.
Interviewer: How do you describe your music style/ genre?
FMB Foreign: My Style is raw it's liable to change everyday I don't think I have one honestly lol but I would say more like trap rap/pop.
Interviewer: Tell us more about your group FMB and your role in it?
FMB Foreign: originated in Baltimore we're all family it's 5 members now including Fmb Babyboi we started out as a two man group myself being the CEO and the Vp Fmb Church recruiting other family members we started uploading a couple tracks one day via SoundCloud we liked the feedback and we decided to go further.
Interviewer: Tell us about your latest and upcoming projects
FMB Foreign: plugged inn 1 & 2 are out on all platforms I've gotten good feedback from both just not the feedback I'm looking for as of right now I do also have hard copies of both next Is the Ep titled "F*Ck Everybody" which drops later this Summer.
Media Contact
Company Name: Family Money Business
Contact Person: FMB Foreign
Email: Send Email
Phone: 215 452 6404
Country: United States
Website: www.instagram.com/__coachflocka/