Lifestyle Brand Fanbell Introduces Avant-garde Lawn Soil Aerator Shoes for Effective Lawn Aeration
Oct 20, 2020 – This just in: Global Lifestyle Store Fanbell has announced the launch of a unique lawn product – Lawn Soil Aeration Shoes! Lawn aeration is usually done using heavy equipment, so these adjustable and easy to use shoes provide a fun alternative; now you can aerate your lawn by simply walking around it! Fanbell guarantees complete satisfaction with these shoes – like all their other products, it was tested heavily before being cleared for sale.
Fanbell – Since 2012
Fanbell aims to provide you a wide range lifestyle goods at the best prices. They regularly place promotions and deals on their website, so be sure to like their Facebook page to be notified of future discounts! Fanbell's product range is extensive, so they summarize it into the following categories:
Home and Garden: The Home and Garden line is designed either to make household tasks easier, or to help you organize and decorate the items in your home in new and creative ways! For example, Fanbell has a wide range of kitchen sets and organizers, as well as gardening tools.
Health and Beauty: these are either products that are sold in bulk to salons – such as beauty sponges and wax hair removal kits, or separately to individuals – like beard trimmers and shower sponges. You can also buy organizers for makeup and beauty products here.
Outdoor: These are items that will facilitate you in outdoor recreational activities like hiking, backpacking, and horseback riding. Fanbell offers all sorts of handy gadgets such as folding binoculars and portable tent fans!
Sport: This category has an array of sports goods and accessories that can be used in the gym or when playing outdoor games. You can get your basic workout supplies here like exercise balls and yoga mats, as well as home training sets like push up boards.
Pet Supplies: Fanbell offers pet toys, food bowls, leashes, dog and cat beds, and pet grooming sets like nail clippers and grooming mitts.
Electronics: This exciting category brings you an extensive variety of electronic devices offered by Fanbell in one place – ranging from LED mirror lights to wireless Bluetooth receivers.

Why Soil Aeration is Important?
Soil aeration simply means the movement of air in the soil surrounding a plant's roots – this air must be made up of a specific ratio of gases for the plant to thrive. In lawns and gardens, the soil under grass can become tough, thus making it difficult for plants to access the air, water, and nutrients that they need to grow. This means that even if you water and fertilize your lawn regularly, it will still not look green and healthy without aerated soil – the water and fertilizer cannot help your grass if they do not reach its roots.
Fanbell's Lawn Aerator Shoes help you achieve a beautiful garden without emptying your bank account. "A lot of people don't have the sort of garden they want just because they can't afford professional gardening services," says Cathy, spokesperson for FanBell.net. "But we believe you shouldn't have to spend a fortune on such services just to be able to enjoy a beautiful garden! Our lawn aeration shoes let you perforate your garden soil and give the grass more room to breathe – which will make your lawn noticeably greener."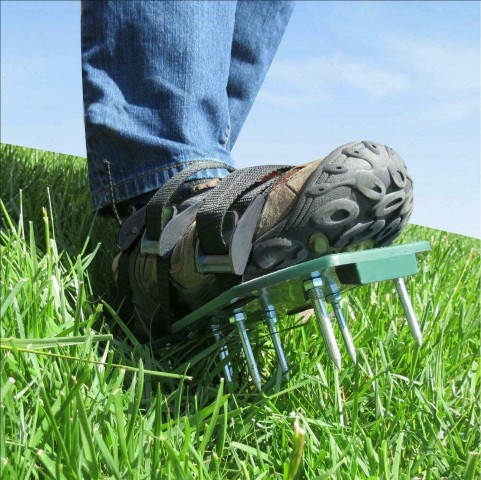 Not only will you save money by looking after your lawn yourself, you'll also feel better afterwards because of how therapeutic gardening can be. "Think of these shoes as an inexpensive investment; you can use them for several hundred cycles of soil aeration," John further elaborates, "and if you maintain them well, they may even last you a lifetime." If you use your lawn frequently – for instance, if you have kids or pets who play in your lawn regularly – then you need to aerate it frequently too. Just make sure to do it when the soil is moist – such as after a rain shower – to make the job easier for yourself!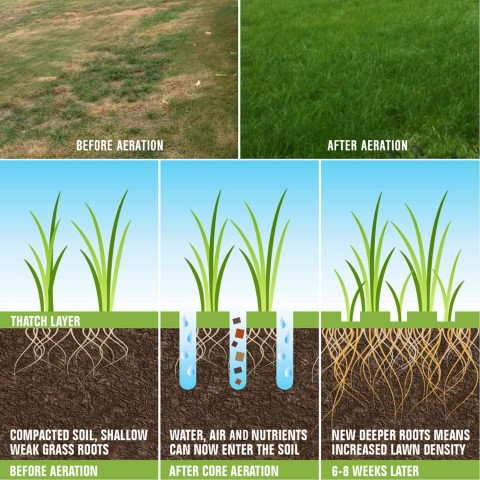 The Ultimate Lawn Soil Aeration Shoes
Fanbell's latest release is anything but generic; these shoes are designed to make garden or lawn aeration as easy as can be! The lawn soil aeration shoes have heavy-duty metal spikes underneath – with these, you can aerate your lawn by simply walking through it. The shoes are one-size-fits-all because they come with three adjustable straps and buckles to hold them in place. Fanbell recommends wearing them while mowing your lawn, so you can complete two tasks at the same time.
These shoes are extremely easy to use; they come with a free small wrench to make the installation process a breeze. You can wear them over any of your regular shoes once they have been installed, and they will help you reach even the most difficult corners of your lawn. The shoes themselves are sturdy and made to last – the plastic base provides good heel support, and the buckles on the straps are designed to be highly anti-corrosive.
"At Fanbell, our business philosophy is to sell products that make people's lives easier," says David, CEO and Founder of Fanbell. "Our lawn aerator shoes were developed the same way; we looked at a job that was difficult to perform on one's own and came up with an inexpensive solution. And like our other products, we tested these shoes out ourselves before putting them on the market – we want to ensure the best experience for our customers."
The Fanbell lawn soil aeration shoes have 3 adjustable straps on top and 13 metal spikes on the bottom for soil aeration – each spike is 48 mm long and sharp enough to act as an effective core aerator. When you order these shoes, they come well packed in a 12.9 x 6.1 x 0.8-inch package. Some of the most notable features of the lawn aeration shoes are discussed here next.
The shoes guarantee professional level soil aeration with minimum effort from your side;
They are an inexpensive and fun alternative to professional garden services;
The superior build guarantees a long-lasting investment;
The design is user friendly and easy to use;
Fanbell guarantees complete customer satisfaction on this product, like all its other brands.
Fanbell has a long history of happy customers. "Fanbell's guarantee is that of 100 percent risk-free satisfaction, no questions asked," Judy Welch shared. If you would like to learn more about Fanbell and their products, you can visit their website: Fanbell.net
Media Contact
Company Name: FanBell
Contact Person: Cecilia
Email: Send Email
Phone: 13580383996
Country: United States
Website: fanbell.net