HubCase AIO USB-C Hub and Protective Case for MacBook Pro launched on Kickstarter by 14-year-old entrepreneur
Jim Fang developed the two-in-one magnesium protection case and attachable USB-C Hub to improve the user experience of MacBook Pro adopters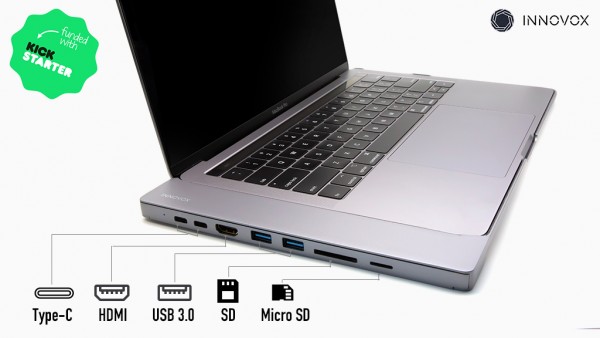 HubCase, a two-in-one effective protective case and USB-C for MacBook Pro, is being launched today on Kickstarter, at [https://bit.ly/2MmHLUT], by Jim Fang, its 14-year-old creator and founder of Innovox, the company that developed the device.
Jim, who is passionate about technology since he came into the United States entering the fourth grade, and who has by now developed a program that is used by 85,000 users, felt motivated to create HubCase after he experienced problems when becoming a MacBook Pro user, in 2018. "It was clear to me that, as excellent as this laptop is as a working tool, using its USB-C connections isn't nearly as easy as it should be," the young entrepreneur said.
The user experience problems are identified in the Kickstarter campaign pitch. Anything that is connected to the USB-C port that is not on a table is left hanging, which compromises both the connected device's ports and the computer's port over time. "For users who are working on their MacBook Pro laptops during a car or bus ride, or sitting on a sofa or in bed, or even during standing meetings, the connected devices that are left hanging and wobbling defy functionality, equipment safety, and aesthetics," Fang said.
HubCase addresses this problem by allowing users to seamlessly attach the device to their MacBook Pro computers. HubCase stays steadily attached to the laptop as if it was a built-in hub, allowing for users to steadily work with their computers in any circumstance with no need for plugs or extra cables, and without having to worry about bringing conventional hubs with them.
The device can also be used as a stand-alone USB-C hub. "A user can just disconnect it from its laptop and use it separately. Both as a built-in or as a stand-alone hub, HubCase features USB-A, HDMI, SD/SD Micro, USB-C, PD and Thunderbolt 3 ports," Jim Fang added.
As a protective case, HubCase has been created with aesthetics and resistance in mind. The shell is made with an industrial-grade Magnesium AZ91D alloy metal body that not only fits into Apple's design style but which also offers an anti-scratch and corrosion-resistant surface that combines strength and durability with light-weight features. "After all, we wouldn't want to make a person's computer any heavier than it already is," Mr. Fang commented.
The HubCase campaign on Kickstarter at <https://bit.ly/2MmHLUT> is seeking to raise $10,000 to fund the large-scale production of the shell cover and USB-C hub for MacBook Pro users. Backers who support the campaign gain early and discounted access to the device.
Mr. Fang's involvement with the creation of technological solutions also has a social angle. He is the President of ReConnect, an American NGO that accepts donations of second-hand computers from urban school districts and individuals, engages students in repairing, reassembling and distributing them free of charge, and delivers these upgraded donated computers to economically challenged students in liaison with several registered NGOs in the country. "That way, we provide free access to computers and technology to economically impaired children, we help prevent electronic waste, and we engage students in tech-related social work", the Chinese-American inventor declared.
Media Contact
Company Name: Innovox Inc.
Contact Person: Jim Fang
Email: Send Email
Phone: 5103202319
Country: United States
Website: http://www.innovoxtech.com/