The PADI IDC Gili Islands adds variable diving conditions to the 2020/2021 Program
The Gili Islands offer some fantastic dive conditions coupled with a vast array of marine life. For those looking to take a professional PADI Divemaster or PADI Scuba Diving Instructor Development Course (IDC) the Gili's offer the very best of training conditions for all levels and particularly for those training towards teaching others to dive.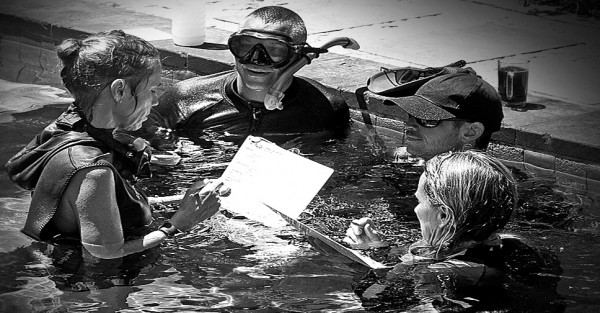 When it comes to dive site selection the Gili Islands are a perfect location and on the PADI IDC with Holly there is now an increased focus on the full range of PADI Courses and Programs, including selecting appropriate training sites and conditions for different levels of training. For example, early in the IDC candidates are required to conduct a Discover Scuba Diving Experience both in confined water and including the follow up optional open water diver, for this they are required to select an appropriate dive site with minimal depth and water movement along with good visibility and marine life with the consideration of risk reduction with the aim of new instructors providing an unforgettable experience in the safest possible way with the element of risk. Further into the IDC candidates also need to conduct a deep dive scenario, which would require the selection of deep diving sites with good visibility, marine life and preferably with a moderate current as new scuba diving instructors can perfect the way in which to conduct continuing education programs to already experienced divers looking to increase personal experience in more challenging conditions. With a more increased focus on the Rescue Diver Course dive sites would need to be selected that offer both mild surface currents along with clear and calm underwater conditions.
The great thing about taking Instructor level training in the Gili Islands, Indonesia is that new scuba diving instructors will be exposed to training divers within variable diving conditions. Although for the most part training sessions are planned with the consideration of the tidal activity on any given day our open water training site can often be subject to changing currents both in strength and directions which provides candidates with additional considerations when it comes to organisation, control and positioning.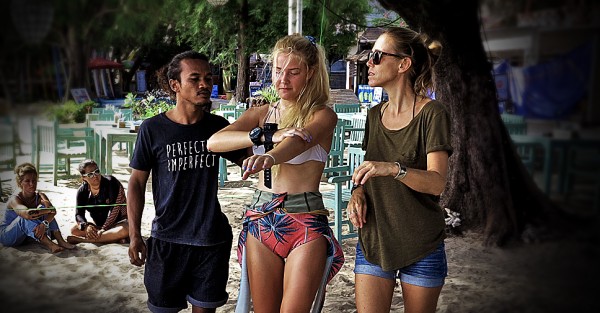 For example a training session could start out in fairly mild conditions which would allow an instructor to position themselves within easy reach of the student, but during the session conditions may change and the current can develop meaning that the particular instructor would need to rethink control measures and if necessary make physical contact with the student. Of course than the particular instructor would need to consider where to make contact on the student so as to avoid disrupting skill performance and also would need to consider anchoring themselves to the horizontal training control lines which already fixed on the training sites for this exact eventuality. Another example is a directional change in current which would require an instructor to make a number of potential split decisions such as where to start and finish moving skills as well as in which direction they need to done. Another decision could be to completely change the position of the students in relation to the instructor whilst still using the vertical training lines as an anchor and potentially for students to hold and thus protecting students from a potential drift situation.
So all in all taking professional Instructor training on the PADI IDC Gili Islands will prepare new scuba diving instructors to teach PADI programs and courses in pretty much any kind of conditions found in worldwide diving locations and general provide new scuba diving instructors with not only the experience of actually doing it but the framework of problem solving techniques that can quickly be implemented in similar conditions. The PADI IDC Indonesia is entirely conducted by PADI Course Director Holly Macleod who has a wealth of experience with over 17 years teaching recreational diving and having issued over 3000 Instructor level certification on the Gili Islands PADI IDC program alone securing the PADI Platinum and Elite 300 Awards for the past 7 years consecutively. All Instructor training takes place at the only ever 5 star IDC Career Development Centre (CDC) to be established on the island of Gili Trawangan.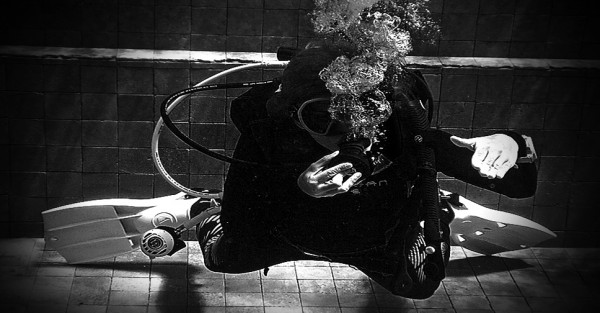 Media Contact
Company Name: Dive Training Corp
Contact Person: Media Relations
Email: Send Email
Address:Trawangan Main Beach Road
City: Gili Trawangan
State: Lombok
Country: Indonesia
Website: gili-idc.com