Multiple World Record Holder, Dr. Bak, Hits Another New Landmark World Record: 120 Books Written In 60 Months
Acing the marathon of sprints one project at a time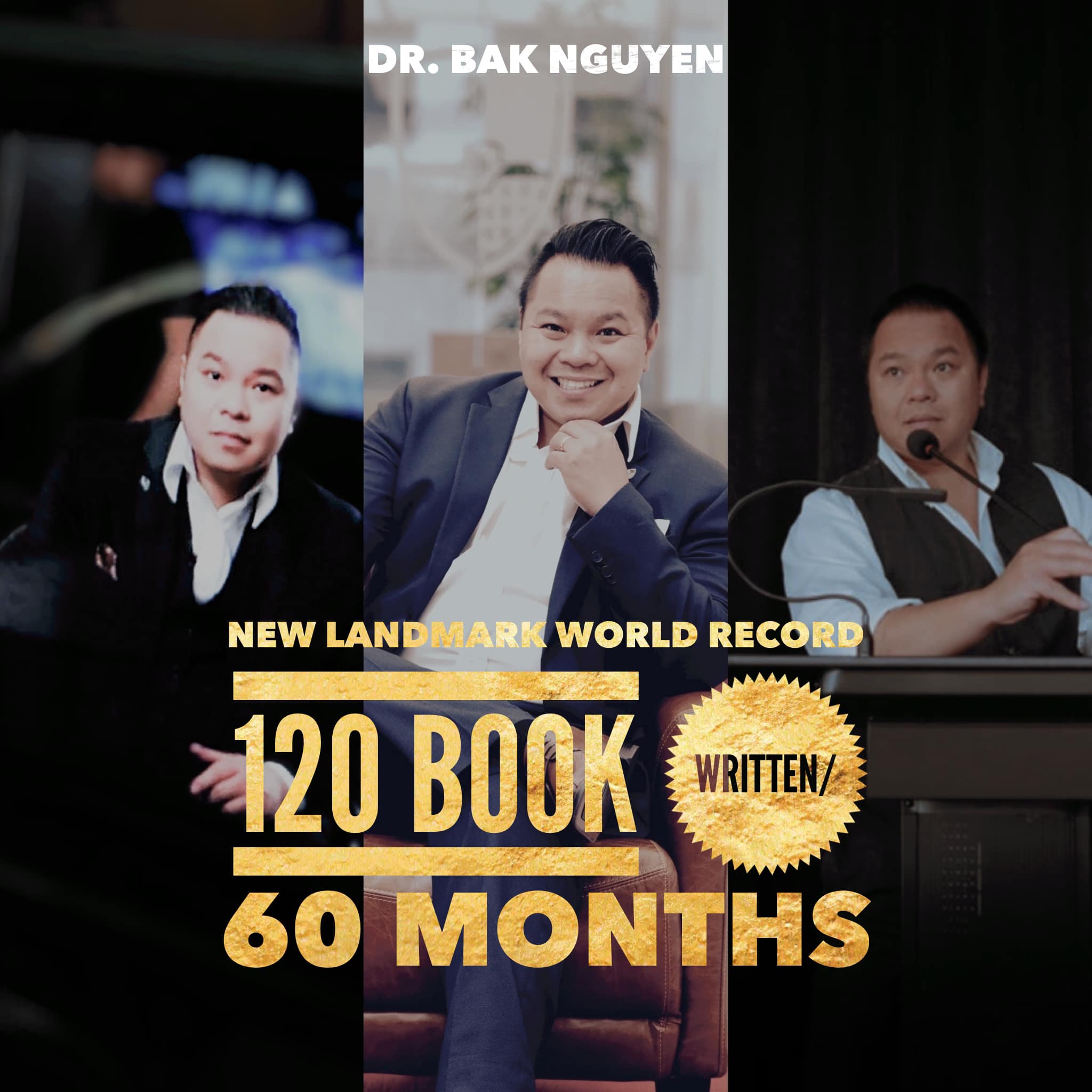 Serial world record author, Dr. Ba Khoa Nguyen, has just reached another New Landmark World Record: 120 books written in 60 Months. Worthy of note is the fact that Dr. Bak has hit 2 phenomenal New Landmark World Records in just 1 year. The first was in 2021 when he set a New Landmark world record, writing 100 books with more than 1.5 million words written in 4 years. This has become a marathon of sprints races as he is set to hit another milestone of 100 authors!
Dr. Bak is widely known as a freethinker and builder of modern society. As the founder of an international collaborative initiative called 'The Alphas,' he shares valuable knowledge anchored on enduring principles with entrepreneurs and doctors who desire to stay at the cutting edge in their fields and overcome the greatest pandemic and economic depression of the 21st Century. Through interviews, seminars, podcasts, books, shows, and speeches, Dr. Bak unleashes several life-transforming contents capable of shaping the world positively. He teaches people how to use the best of their abilities, maximize their potential, and develop million-dollar mindsets. He shares world stages with moguls, training people to see solutions where others see problems and create a niche of influence for themselves.
"Mission accomplished! New landmark world record set at 120 books written in 60 months. This year was particularly hard! It was the first time that I was so close to the dateline, and not even sure that I would make it! I would like to thank my son William Bak for his help and empowerment to reach the finish line," said the company's spokesperson.
As a speaker and motivator, Dr. Bak is a World Top100 Doctor, Nominee Ernst & Young Entrepreneur of the year, Grand Homage LYS DIVERSITY, and LinkedIn & Town hall Achiever of the year. He is the founder of Mdex & Co., a company at the top echelon of dentistry concerned with using advanced technology to transform the dental sector.
His books cover a wide range of topics, including entrepreneurship, leadership, quest for identity, dentistry and medicine, parenting, and children's books. While Dr. Bak is set to launch his next big project about 100 authors, he has created an opportunity for interested apprentices to learn how to write books.
This program is a rare opportunity for people to be trained by Dr. Bak and reach out for their ultimate goals in book writing. Interested participants are required to send their CVs via mail as soon as possible, as limited spaces are available. Reach out to submit your application and to inquire about the special program and fees.
For more information, visit https://baknguyen.com/.
Media Contact
Company Name: Dr. Ba Khoa Nguyen Inc.
Contact Person: Tranie Vo
Email: Send Email
Address:1002 Sherbrooke west R18
City: Montreal
State: QC H3A-3L6
Country: Canada
Website: https://baknguyen.com/